MacOS and iOS Security Internals Subscription
---
Posted: by
Stefan Esser
  |  More posts about
Blog
Training
iOS
Kernel
Userspace
Security
MacOS
---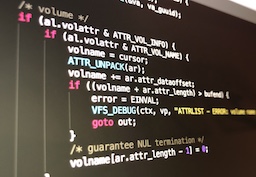 Instructor: Stefan Esser (Antid0te UG/Antid0te SG)
Format: 4 Videos per month (plus accompanying material)
Start Date: 8th April 2023
Language: English
At Antid0te we have realized Apple is very active when it comes to making security relevant changes to iOS and MacOS. For a third party that is not entirely focused on Apple products it is very difficult to stay on top of these changes or to justify the resources required to get to know about these changes. To help the wider community to stay on top of these changes we are now introducing the MacOS and iOS Security Internals Subscription. For a monthly subscription fee we make available about 3h - 4h of video lectures available per month that will cover new MacOS and iOS security internals or updates to previously discussed ones that we have not covered anywhere else before.
Range of Topics Covered
iOS and MacOS Security Internals
Kernel Land and User Land
New or udpated memory allocators
New or updated security mitigations
New attack surface (new subsystems, new daemons, ...)
Description of security architecture (e.g. how do userland drivers work)
Deliverables
Weekly video covering new or updated security internals (up to 4 per month)
3h-4h of video material per month
Suggested tasks to practice or deepen knowledge
Access to accompanying material like scripts or tools
Demo
To help you better understand what kind of material we are planning to share with you on a weekly basis we will make an example video available. Please check back later or email us to get notified when this video is available.
Pricing
We offer the following monthly rates for this subscription service.
| | | | |
| --- | --- | --- | --- |
|   | 1-month | 6-months | 12(+1)-months |
| EUR | 350,- EUR (plus VAT) | 2000,- EUR (plus VAT) | 4000,- EUR (plus VAT) |
| SGD | 500,- SGD | 2850,- SGD | 5700,- SGD |
| USD | 400,- USD (plus tax) | 2285,- USD (plus tax) | 4570,- USD (plus tax) |
Please understand that because this is a digital product without any live components we have to charge different taxes depending on your location on top of the base price. We offer monthly payments of the subscription via credit card via stripe. 6 or 12 month subscriptions can additionally paid for by international bank transfer. Contact us by email for more information. We will usually charge EU customers in EUR, and the rest of the world in either USD or SGD.
Register
If you have further questions or want to subscribe for this subscription service please contact us by e-mail training@antid0te.com.